The critical circumstances we have been experiencing in the last 18 months with the pandemic have made several organizations reconsider their priorities, shifting their focus on innovation and making digital banking transformation an absolute priority.
The way we do banking massively changed in the past few decades. We have to go back to the nineties to find the first elementary applications of online banking, which later become much more sophisticated and started to take more evolute forms. From the use of internet banking as an additional service for their customers to a paradigm shift with fintech, the arrival of open banking, and the born of digital-only neobanks and challengers banks, without physical branches.
Online banking and electronic payments have become increasingly popular over time, gaining people's confidence and love for their convenience, security, and the wide range of financial services easily available on a smartphone. As a result, the adoption of digital forms of banking is now widespread, ranging from an EU average of 60% to the peaks of some north European countries where the adoption is close to 100% (see chart below).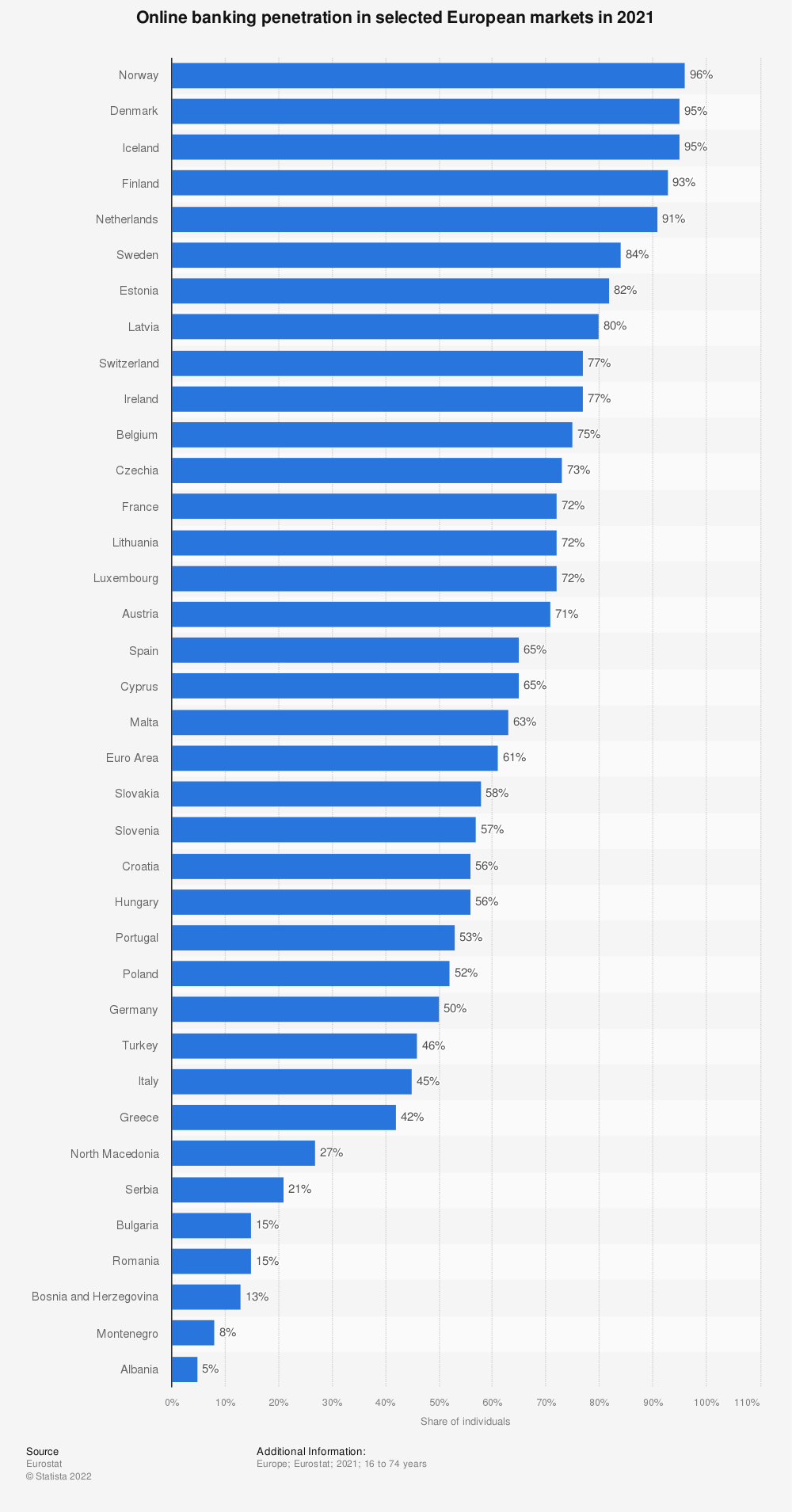 Source: Statista, online banking penetrations in selected European countries in 2020.
The Digital Transformation of Banking
The critical circumstances we have been experiencing in the last 18 months with the pandemic have made several organizations reconsider their priorities, shifting their focus on innovation and making digital banking transformation an absolute priority.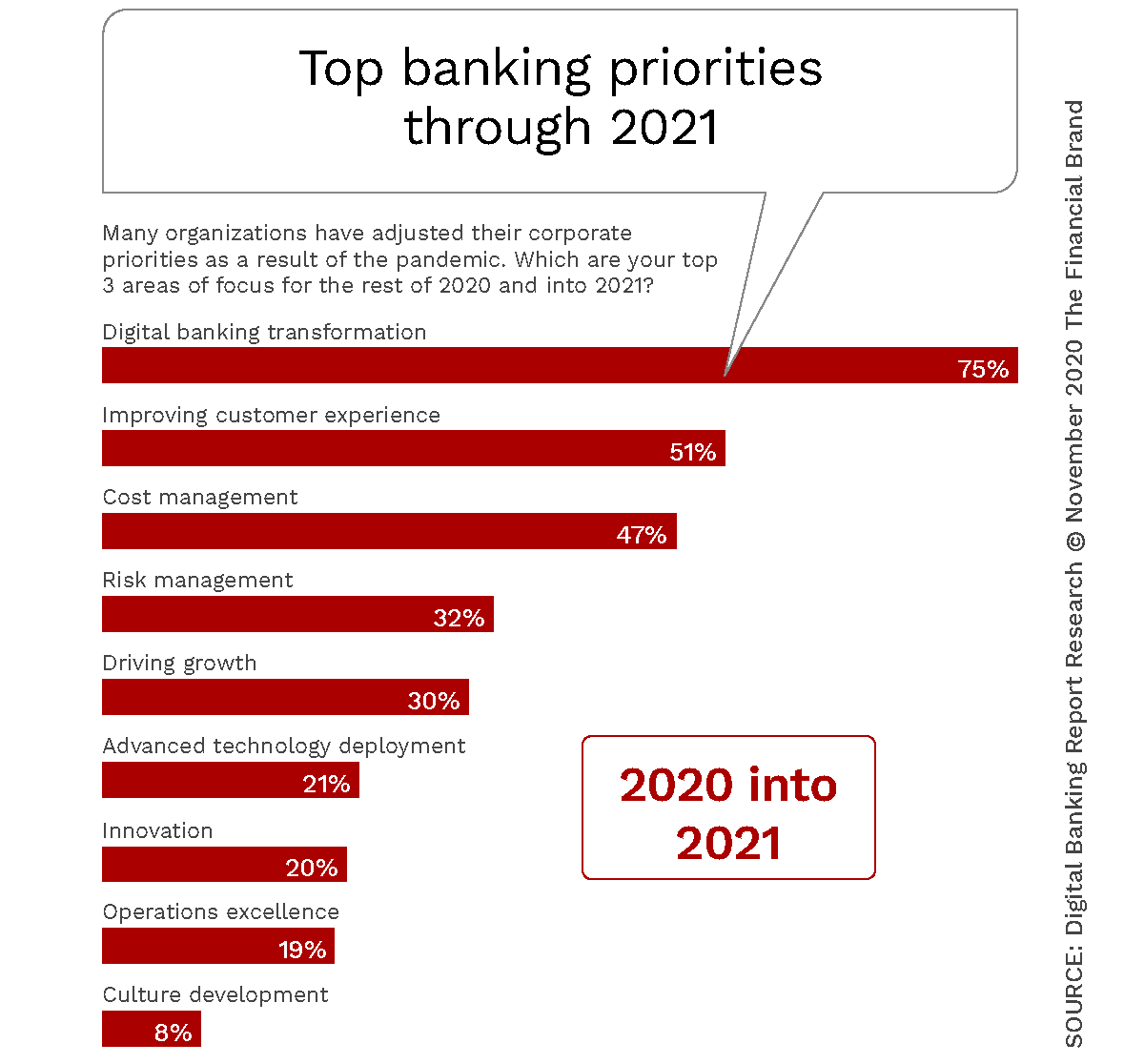 Source: The Financial Brand.
Broadly speaking the digital transformation in the banking industry is seen as a way to reduce service delivery costs and contextually increase the value of the services offered to their customers. Traditional banks view online banking as a way to stay relevant in an increasingly competitive landscape where fintech challengers are gaining more market share, especially among the youngest generations. Below we take a look at how incumbents compare with their new competitors.
Traditional Banks Vs. Digital Banks
There are numerous differences here, beginning with the approach at the very core of these organizations. Digital banks offer a very diverse experience to their customers from the moment they decide to open a new account. 
While there may be significant differences from bank to bank and country to country, it can take up to three weeks, and a visit to a local bank branch, to open a bank account and start using it. With digital banks, it's a totally different reality, as it usually takes a matter of minutes for a person to open a new account and have the KYC process completed. With a procedure done 100% online from anywhere, and with the possibility to start using the account and make payments even before receiving the payment card.
In addition to the setup speed, there are costs and transparency that are other two areas where digital banks are changing the rules of the game. Most neobanks and challenger banks usually offer at least a basic subscription, with an online account and a payment card, that is free to open and has no monthly fees. Meanwhile, the costs for all other additional features and services are usually clearly disclosed directly on their websites. Something different for traditional banks where you generally have some monthly fees, even for a super basic account. 
Last but not least, it's the overall user experience where digital banks usually excel as they can offer simple solutions of good digital quality, that are mobile-first, and thought to fill the needs of today's consumers. 
Still, incumbents also maintain some assets on their side. For example, they still have a clear advantage in terms of cash in their deposits and in terms of market share. Especially for older generations, there's also an advantage with the perceived safety of their brands compared to their digital counterparts. It has to be noted that security can change depending on the type of license that these organizations have, so it's worth exploring a little more in detail in the section below.
Full Banking License Vs. Electronic Money Institutions (EMIs)
The difference between licenses is important to understand, as non all the entities that provide an online bank account also have a full banking license – in fact, they can also do that with an e-money license (EMI). While traditional banks and digital challenger banks have a full banking license, what's referred to as neobanks only have an EMI license. Ok, you may be wondering, but what does it mean in practice? The key differentiator is that with an e-money license, the money deposited is not guaranteed with a deposit protection scheme (usually covering up to €100,000) as it happens for banks with a full banking license.
Looking ahead
The banking revolution enabled by fintech and accelerated by the pandemic shows signs of consolidation of some new trends. In particular, we are seeing an inclination towards financial super-apps that are integrating more and more services, including, for example, the possibility to invest in Bitcoin and other cryptocurrencies, plus the integration of other services like micro-insurance capabilities.
In parallel, we observe a new wave of digital banks specifically targeting minorities – from the LGBTQ to black and Asian communities. As well as others focusing on Gen Z, a generation now entering into the workforce, and kids, with cash cards to empower and educate them since they are in their childhood.
Out of the hype and some specific trends, what stands as the hearth of the future of banking is the modular approach that became possible since the new Payment Services Directive (PSD2) went into full effect in 2019, enabling what's referred to as open banking and a new approach to financial services. 
At CommerceGate, we understood that early on and created a set of advanced API-based solutions, including merchant accounts, payment gateways, and a risk management system, built for the long term. Modular tools that are easy to integrate into the legacy systems of incumbent banks and the more modern neobank systems. While the future of banking is yet to be written, we couldn't be more excited to be part of this new era of financial services, powering the banks of the future!